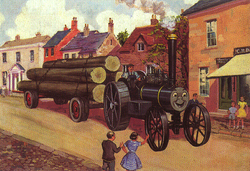 Trevor
Trevor is a traction engine.
Bio in the Railway Series
Edit
Trevor used to work on farms doing odd jobs like threshing corn and sawing timber, but his owner thought he was old-fashioned and sent him to the scrapyard. Edward luckily befriended him and convinced Rev. Charles Laxey to purchase him. Trevor now lives in the Wellsworth vicarage orchard, but is often borrowed by his driver Jem Cole to do odds jobs and to appear at various events such as steam fairs.
A few years later, Trevor felt under the weather with some boiler trouble, but is able to saw a fallen tree in a field. Meanwhile, Edward, who is passing by, finds the rails bumpy, and decides to tell the breakdown gang. He forgets, and is returning to Brendam when his last few trucks derail. Edward doesn't realise this, but Trevor hears the guard's whistle and cries out to Edward. As a reward for preventing a potential accident, the Fat Controller arranges for Trevor to be repaired.
Trevor is very friendly and gets along well with the engines. He is also helpful and ready to give anybody advice. Trevor loves children in particular, especially giving them rides in his cart.
In The Railway Series book Edward the Blue Engine, Trevor is always painted black with gold boiler bands and chimney cap.
Trevor's second appearance is in the much later book Thomas and the Twins. In this he has a distinctly 'odd' appearance when compared with real preserved traction engines in general. This may be because he is painted all-over green, including his smokebox, and has bright yellow boiler bands. Traction engines and railway locomotives "always" have their smokeboxes painted black, presumably so as to not show the dirt from oil, ash and soot. On the other hand, his boiler is drawn larger than in the earlier book, with a diameter much more in keeping with the proportions of an 8nhp traction engine.
Trevor is based on a William Foster and Co. eight-ton traction engine built in the 1920s for farm work and hauling heavy loads, and previously owned by the Reverend W. Awdry's friend the Reverend Teddy Boston.
Appearances
Edit