Thomas' Branch Line is Thomas' own line. He loves it dearly and considers it the most important part of the entire railway. He earned it after helping James from a nasty accident.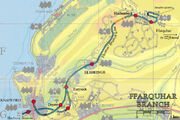 Thomas' branch line starts from Knapford Junction where it connects with the Main Line. It then calls at Dryaw, Toryreck, Elsbridge, and Hackenbeck before terminating at Ffarquhar.
Thomas and Daisy run passenger duties with Annie and Clarabel. Toby, with Henrietta, Victoria, and Elsie, run trains to Anopha Quarry. Percy is in charge of goods duties, although when Thomas is absent he takes over passenger duties. He and Toby also appear to share the workload of stone trains to Knapford Harbour. Stepney, Duck, and Wilbert,have also worked on the branch at various points.
The branch also has a goods-line from Toryreck to Knapford Harbour, worked by Percy. This line also has a connection to the Dryaw mines, formerly used for mining lead but now being worked for deposits of uranium.
The quarry tramroad extends five miles from Ffarquhar, through the streets of the village, then into the hills to the private sidings of Anopha Quarry. This tramway is property of the North Western Railway and was formerly worked by Toby, but more recent arrangements have allowed for Mavis to operate trains on it.
Operations
Edit
The branch carries passengers, quarry stone, farm produce, dairy products from St. Pedroc's Dairy in Elsbridge, general goods, and uranium from the mines. Some passenger trains work into Tidmouth to pick up a through coach from the Wild Nor' Wester.
Ad blocker interference detected!
Wikia is a free-to-use site that makes money from advertising. We have a modified experience for viewers using ad blockers

Wikia is not accessible if you've made further modifications. Remove the custom ad blocker rule(s) and the page will load as expected.