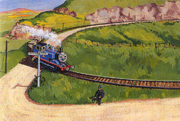 The Quarry Tramroad runs a serpentine five and a half mile course from Ffarquhar (the end of Thomas' Branch Line) to Anopha Quarry - even though a direct route between the two is only one and a half miles! Thomas ran the line until an encounter with a policeman put a stop to it; all because Thomas didn't have sideplates or a cowcatcher. In the end, the Fat Controller bought Toby to solve the problem. The sole traffic on the line is stone with a passenger train to carry workmen to and from the quarry. Later, the quarry company bought Mavis to help with the stone traffic.
Mavis once got stuck on a level crossing along this line after ignoring Toby's advice.
Ad blocker interference detected!
Wikia is a free-to-use site that makes money from advertising. We have a modified experience for viewers using ad blockers

Wikia is not accessible if you've made further modifications. Remove the custom ad blocker rule(s) and the page will load as expected.