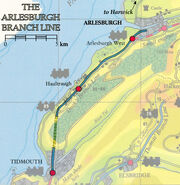 The Little Western (also known as the Arlesburgh branch,
or
Duck's branch line), is the newest on the NWR, having been reopened to regular services in 1968. It is known as "The Little Western" because the stations on the line are decorated in the style of the Great Western Railway (GWR);
Duck
and
Oliver
(both ex-GWR engines) are in charge; and the passenger coaches are ex-GWR autocoaches,
Isabel, Dulcie,
Alice and Mirabel
.
The line runs along the coast from Tidmouth to Arlesburgh West, where it connects with the Arlesdale Railway. It is used for transporting ballast, and is also very popular with tourists. Freight services are mainly handled by Donald and Douglas, who are also based on the branch line. When the line was first opened in the 1920s it connected with the Mid Sodor Railway and there was an intention to build further up the Sudrian western coast to Harwick but this extension was never built. When the Mid Sodor closed in the late 1940s the Arlesburgh branch became used only very rarely.
Ad blocker interference detected!
Wikia is a free-to-use site that makes money from advertising. We have a modified experience for viewers using ad blockers

Wikia is not accessible if you've made further modifications. Remove the custom ad blocker rule(s) and the page will load as expected.