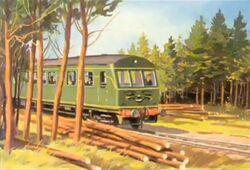 Daisy
Number: D1, originally 52627
Class: BR Class 101
Designer: Metro-Cammell
Builder: Metro-Cammell
Configuration: Bo-Bo
Speed: 75 mph
Built: 1960
Arrived on Sodor: 1961
Daisy is a unique diesel railcar, painted green with yellow lining (similar to the livery of British Railways' DMUs in the 1960s), and was built in 1960 specially for use on the Ffarquhar branch of the North Western Railway. She first appeared in the book Branch Line Engines.
Daisy arrived on Sodor after Thomas had an accident and needed major repairs. She was lazy at first, refusing to do any work that didn't appeal to her and claiming that she was "highly sprung", and thought herself far cleverer than the other engines. But an incident with a bull and a stern warning from the Fat Controller showed her the error of her ways, and she is now a valuable addition to Thomas' branch line.
Daisy is undoubtedly based on the Class 101 diesel multiple units (DMUs), but is a one-off, being a single railcar (akin to the Class 121 'bubble cars'), with a driving cab at each end. Although normally considered to be a Class 101, Daisy is always depicted with the distinctive valances around the buffer beams that distinguishes the earlier 'light-weight' prototype units made by Metro-Cammell This is because the original model was built by amalgamating two of Tri-ang's R157 models. This would also account for Daisy's refusal to pull a milk van to the dairy, as the lightweight units were not strong enough to haul wagons.
Diesel engines like Daisy were becoming a common sight on branch lines during the early 60's, and therefore it can be implied that Daisy's introduction into the series is a reflection of the contemporary state of railways at the time. Some of the stories involving Daisy reflect problems that were faced by railway staff when it came to dealing with 'highly sprung' diesel engines in the earlier phases of their usurpment of steam.
Appearances
Edit
Railway Series
Edit
Branch Line Engines
Stepney The "Bluebell" Engine (mentioned)
Tramway Engines
Thomas and the Twins (does not speak)
Thomas Comes Home
Wilbert The Forest Engine (does not speak)
Thomas and the Fat Controller's Engines 
Thomas and Victoria
Thomas and his Friends (cameo)
Thomas and the Evil Diesel (does not speak)
Ad blocker interference detected!
Wikia is a free-to-use site that makes money from advertising. We have a modified experience for viewers using ad blockers

Wikia is not accessible if you've made further modifications. Remove the custom ad blocker rule(s) and the page will load as expected.