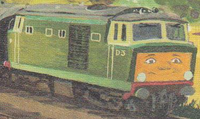 Bear
Number: D3, formerly D7101
Designer: Beyer Peacock Ltd.
Builder: Beyer Peacock Ltd.
Configuration: Bo-Bo
Arrived on Sodor: 1967
Bear, originally known as D7101, is a diesel engine currently working on the North Western Railway.
Appearances
Edit
In Enterprising Engines, Bear, numbered D7101 and painted blue, first arrived on the Island of Sodor on a trial for the Fat Controller. He was accompanied by another diesel engine, D199. D199 wanted to take over the railway, but Bear, who was more respectful to the steam engines, lambasted the idea.
Later in the same story, Bear suffered from a failed ejector while pulling "The Limited" and had to be rescued by Henry, who had also failed.
Appearances
Edit
Railway Series
Edit
Enterprising Engines
James and the Diesel Engines (does not speak)
Gordon the High-Speed Engine (mentioned)
Henry and the Express (mentioned)
Ad blocker interference detected!
Wikia is a free-to-use site that makes money from advertising. We have a modified experience for viewers using ad blockers

Wikia is not accessible if you've made further modifications. Remove the custom ad blocker rule(s) and the page will load as expected.