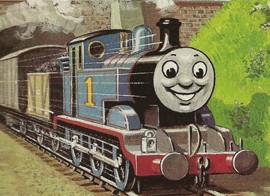 Welcome to the Awdry's Railway Series Wikia
Edit
The Thomas Wikia focuses on both the RWS and TV series, this wikia however focuses only on The Railway Series and the people who helped to make it possible.

Note: Real engines means two things:
1.If real is in quotation marks, then it refers to steam engines.
2.If real is NOT in quotation marks, then it refers to engines that really existed.
This wikia is hosted by these admins, some of which have yet to make edits:
Skipper101, Thomasandstanley, Quimby&walterfan, ZEM, SteamTeam, TheHunsletWD0-6-0ST, Caledonian812, and Nictrain.
Please read the rules before making an edit.
Skipper101 20:57, March 22, 2012 (UTC)
Latest activity
Edit
Ad blocker interference detected!
Wikia is a free-to-use site that makes money from advertising. We have a modified experience for viewers using ad blockers

Wikia is not accessible if you've made further modifications. Remove the custom ad blocker rule(s) and the page will load as expected.