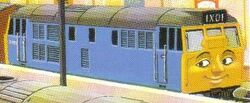 31120
Number: 31120, originally D5538
Builder: Brush Traction
Class: BR Class 31
Configuration:A1A-A1A
Top Speed: 90mph
31120 is a Diesel owned by the Other Railway who appeared at Barrow in the last illustration of Fire Escape. His headcode is "1X01", which is odd, as the "X" indicates "Royal Train" or "out-of-gauge load". It was eventually withdrawn from service in August 1991.
Basis
31120 is based on a BR Class 31 diesel locomotive, hence his number and is painted in British Rail "Rail Blue" livery with large yellow warning panels.
Appearances
Railway Stories
Ad blocker interference detected!
Wikia is a free-to-use site that makes money from advertising. We have a modified experience for viewers using ad blockers

Wikia is not accessible if you've made further modifications. Remove the custom ad blocker rule(s) and the page will load as expected.